When was the last time you scheduled professional gutter cleaning for a Middletown, CT, home? If it's been years, or you've never had a pro tackle those gutters, it's time to make that call! Expert gutter cleaning offers many benefits for properties and is an excellent home maintenance investment.
However, many homeowners put off professional annual gutter cleaning because they assume it's not worth the cost. Some don't understand the need for clean gutters on a property. Others might think they can tackle gutters themselves! Before you go another year without professional gutter cleaning in Middletown, check out some benefits of this service for your property.
Why Does a House Have Gutters?
First, note the purpose of a home's gutters, so you better understand why you need to keep them clean! Second, you can consider reasons to leave needed cleaning to the pros.
Gutters catch rainwater as well as melting snow and ice as these roll off the roof. Next, gutters direct that water to nearby downspouts. Lastly, those downspouts direct water away from the home and toward a street or drain.
This process offers many vital benefits for a house. Without gutters, rain and other moisture would pool around that structure's foundation. Note that foundation concrete absorbs moisture easily, but then cracks, chips, or separates. Gutters keep water away from foundations, reducing damage risks over the years.
If gutters didn't catch that water, it would roll down outside walls and windowpanes. In turn, your home might sport some very unsightly streaks and water stains along those surfaces! Additionally, that water risks damaging brick, metal siding, and other building materials.
Lastly, gutters keep water from pooling in one place on your property, protecting your lawn and landscaping features. Without gutters and downspouts, you might notice lots of spongy or outright muddy areas around your home.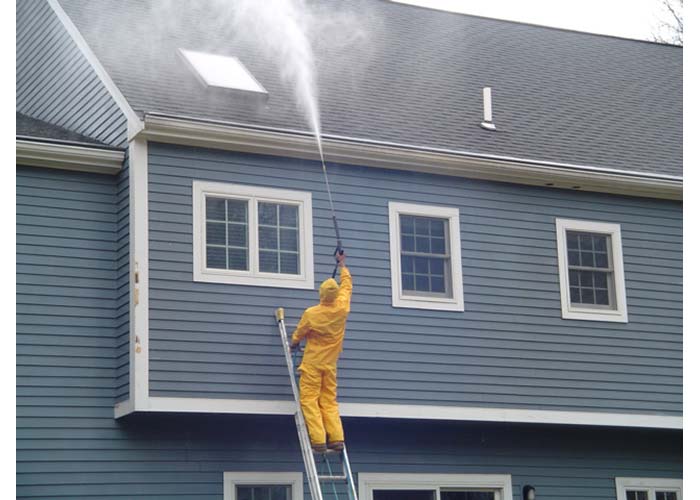 What Happens If Gutters Are Not Cleaned?
While gutters offer all these protections for your property, they need to stay clean and clog-free to work effectively! Clogs allow rainwater to build up in gutters, then wash over their sides. In turn, those gutters become ineffective, almost as if they're not even there.
Also, note that roofing materials might absorb standing rainwater. This risks damage to shingles, underlayment, and other materials. Standing water also risks algae and mold growth, which damage roofing shingles. Clogged gutters and standing water can even attract bothersome insects to your home!
Why Choose a Professional for Needed Annual Gutter Cleaning?
Since gutter cleaning offers so many benefits for your property, why not simply tackle this work on your own? Before you drag out a ladder and scraper, consider some vital reasons to leave this work to the pros!
First, consider that being on a ladder is dangerous for untrained amateurs! Second, trying to manage cleaning equipment and reach far corners of those gutters makes it even more risky. Also, a homeowner can damage gutters with harsh cleaning tools and improper techniques.
Additionally, professional contractors typically have more experience in providing a thorough cleaning. For instance, they won't overlook downspouts or far corners of those gutters and roof eaves. A professional might also offer tips for keeping those gutters clean between their visits.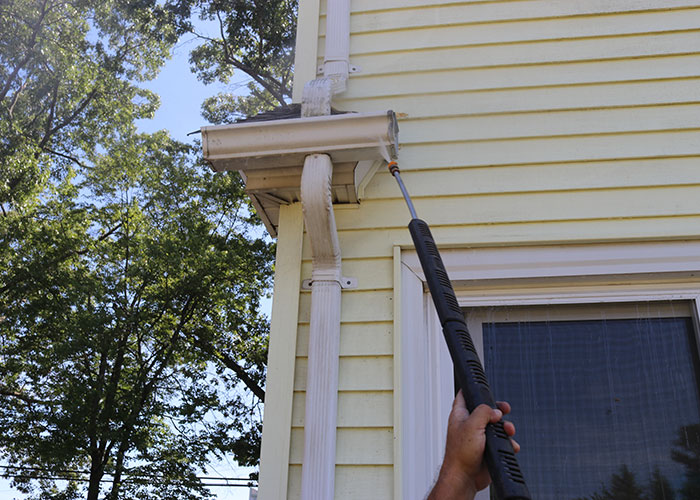 How Often Should Gutters Be Cleaned?
Contractors might recommend annual gutter cleaning for Middletown properties. However, it's vital that you clean those gutters when needed rather than just according to a certain schedule. For example, strong storms tend to drop added debris onto area roofs and gutters. In turn, those gutters might need an added cleaning.
Also, check if there are mature trees around your property and over your home. Trees tend to drop branches, leaves, seeds, moss, and other debris onto roofs. That debris then ends up in the gutters! If you don't want to trim back those branches, check gutters for needed cleaning often through the year.
Lastly, undersized gutters can fill up with debris more readily than larger pieces. If your home's gutters are older, check them for needed cleaning more than annually! You might also invest in larger gutters to manage debris more readily.
Middletown Carpet Cleaners is happy to provide you with this information about gutter cleaning for Middletown, CT properties. Hopefully, you found it informative! If you're ready for expert services on your property, call our Middletown gutter cleaning contractors. We offer full-service power washing and gutter cleaning. Additionally, our crew specializes in indoor carpet and rug shampooing as well as tile and grout cleaning. To find out more about our services and to schedule your FREE quote, use our contact form or just give us a call.